How to counter: Elemental Dragon
I can't find Article section so I will post here as a help.
Hello everyone, I'm Panda. As you can see, now, in the YGO's world has a new kind of archetype - Elemental Dragons. This deck was popular right from the first place when it came out and it is becoming more popular and now a lot of people are using it.
Elemental Dragon
Elemental Dragon is also called Incarnate Dragon. This archetype is full of Dragon-Type Effect Monsters that has 2 groups: Level 7 monsters and lower level monsters to support these level 7s.
All of the Elemental Dragons have same effects: "You can banish 2 Dragon-Type or [corresponding Attribute] monsters from your hand or Graveyard, except this card; Special Summon this card from your hand or Graveyard. During your opponent's End Phase, if this card was Special Summoned: Return it to the hand.", the effect: "When this card is banished: Add 1 [corresponding Attribute] Dragon-Type monster from your Deck to your hand. You can only use the effect of "[corresponding Elemental Dragon]" once per turn, and only once that turn.", and a variable effect that triggers upon sending it and 1 other corresponding Attribute monster from your hand to the Graveyard.
Well, that's all for an introduction. If you like to read more about this archetype and deck variants, you can read this article by Harmonia:
http://www.duelacademy.net/t25106-the-elements-of-success-elemental-dragon-guide
No more saying, let's head directly to the main point. Everyone have to admit that this archetype is really strong that being too overpowered. But that doesn't mean Elemental Dragon don't have any weakness. First, let's talk about this archetype's play-style. We have to know its strategies first in order to know what we can do to stop it from being overpowered. Elemental Dragon mostly XYZ summons Rank 7 monsters by discarding and banishing themselves. Probably you guys will know what to do with this deck right now. Yes, that's right. We need cards that can shut down or slow this deck, or basically stops the Elemental Dragon from banishing, discarding, also we can prevent its Special Summoning. I will show you some that can combat this archetype.
Mind Drain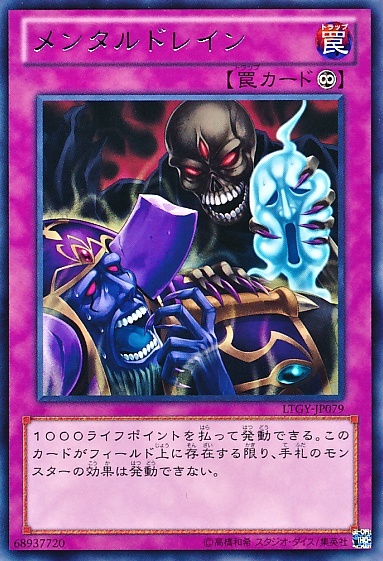 Code:

Effect: Activate by paying 1000 Life Points. Monsters in the hand cannot activate their effects (that start a Chain).
The cost is really cheap to pay as you can see. Why Mind Drain is on the field, you will prevent from using effects that banish, discard from the hand because all of Elemental Dragons are always play with the hand. All monsters in the hand cannot activate their effects due to Mind Drain being used on the field. But it's really easy to destroy with cards like Mystical Space Typhoon, Heavy Storm, Dust Tornado, Royal Decree, Twister,...these cards can remove the disadvantages for Elemental Dragon.
Soul Drain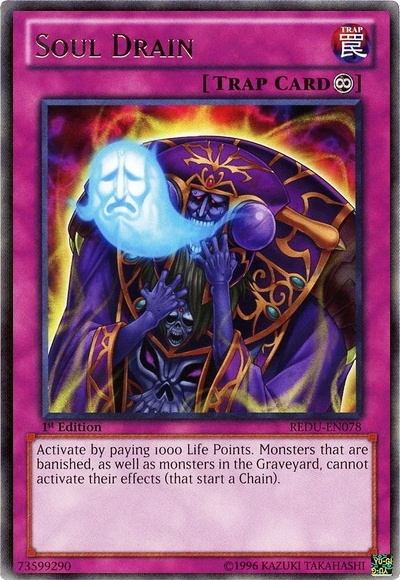 Code:

Effect: Activate by paying 1000 Life Points. Monsters that are banished, as well as monsters in the Graveyard, cannot activate their effects (that start a Chain).
Only Mind Drain isn't enough to kill Elemental Dragon because they still can use effects from the Graveyard to Special Summon, so Soul Drain will handle this problem. Like Mind Drain, it also has the cheap cost - pay 1000 Life Points. When this card is on the field, it will prevent Elemental Dragon from using their effects that banish, add from the Graveyard or Banish Zone. Wish these 2 cards on the field, you totally shut down all of the Elemental Dragons. However, like the same with Mind Drain again, it can be destroyed easily if your opponent uses removal cards.
Imperial Iron Wall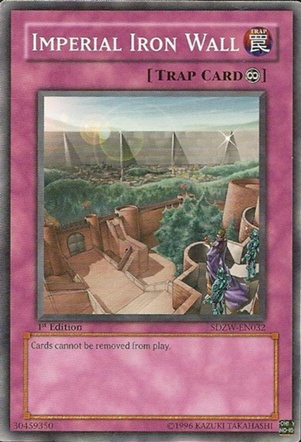 Code:

Cards cannot be removed from play.
I may call this a small version of Soul Drain, which only stops from banishing. No cost to pay makes it an advantage to use to against Elemental Dragon, but your opponent still can Special Summon by discarding. I can say Imperial Iron Wall only stops Elemental Dragon just a little bit, so this should be on the field with another cards like Mind Drain.
Archlord Kristya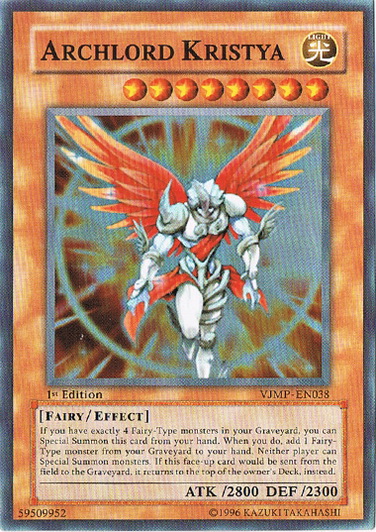 Code:

If you have exactly 4 Fairy-Type monsters in your Graveyard, you can Special Summon this card (from your hand). When you do: Target 1 Fairy-Type monster in your Graveyard; add that target to your hand. Neither player can Special Summon monsters. If this face-up card would be sent from the field to the Graveyard, it returns to the top of the Deck, instead.
Elemental Dragon depends on Special Summoning, that's why Kristya is really good on facing it. However, it gives ourselves disadvantages when we can't Special Summon monsters either, also this monster can't be played in other except in Fairy-Type based decks such as Agents, Valhalla, Herald of Perfections, Darklords,.....
Crimson Blader
Code:

1 Tuner + 1 or more Non-Tuner monsters

Effect:If this card destroys an opponent's monster by battle and sends it to the Graveyard: Your opponent cannot Normal or Special Summon Level 5 or higher monsters during their next turn.
An awesome card to against Elemental Dragon. But it have some problems:
1. Crimson Blader is easy to be affected by Spell/Trap cards and monster's effects.
2. Crimson can't stop opponent from Special Summon Level 5 or higher monsters in his/her next turn if couldn't destroy opponent's monster by battle and send to the Graveyard. Which means there will be disadvantage if your opponent XYZ Summons Rank 7 Mecha Phantom Beast Dragossack to defend, also Dragossack can kill Crimson instantly if we can't get rid of it, or basically Crimson can't kill Blaster since their attacks are the same.
Fossil Dyna Pachycephalo
Code:

Effect: Neither player can Special Summon monsters. When this card is flipped face-up: Destroy all Special Summoned monsters on the field.
Clearly this is easier to face Elemental Dragon than Crimson Blader, which needs to destroy the opponent's monster first. It also has second powerful effect so we won't need to worry if your opponents Special Summons a lot before you use this monster, but it wil be problem if this card is destroyed by Dragossack by destroy 1 Token or Blaster by discard itself and one more Fire Dragon-Type to the Graveyard or basically some Spell/Trap cards.
Evilswarm Ophion
Code:

2 Level 4 "lswarm" monsters

Effect: While this card has Xyz Material, Level 5 or higher monsters cannot be Special Summoned. Once per turn: You can detach 1 Xyz Material from this card; add 1 "Infestation" Spell/Trap Card from your Deck to your hand.
A piece of art of prevent Special Summoning since every Level 5 or higher monsters cannot be Special Summoned when this card is active on field with material(s). We won't need to worry about this card being destroyed since we have Infestation Pandemic, but there're some problems. This monster can only be played with Evilswarm, also your opponent may Special Summon if Ophion runs out of material. However, there's a problem that most of people will know, for example:
You have already used 1 material to get Infestation Pandemic in the last turn and already chained it because your opponent use Torrential Tribute. Now this is the decision from a heart, detach the last material or not. If you detach the last piece to get Infestation Spell/Trap, you won't get Ophion destroyed in the next turn by card effects, but your opponent will do a come back easily or no detach to get it may be destroyed by card effects.
The next disadvantage is this card can only be played in Evilswarm, it is not suitable to play in another decks. In spite of that, it's still a good card to combat Elemental Dragon.
Summon Limit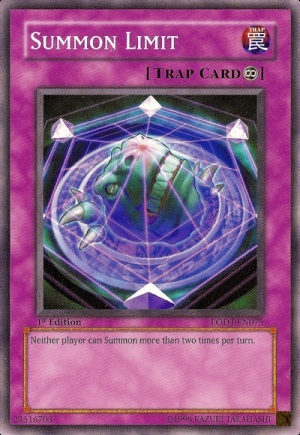 Code:

Effect: Neither player can Summon more than two times per turn.
This is a good card because Elemental Dragon summon a lot. That means if it can't summon more than this "two times", it will cause some problems. I must say it will be big problems. Some nabs will think that 2 times are good enough because there will be 2 Elemental Dragons with big attacks on the field. But no, all of the Level 7 Elemental Dragons will have to return to hand if they're Special Summoned during the End Phase, so it's quite useless to discard and banish with no result. No Dragossack or another Rank 7 monsters = Death. We also will have troubles because in the effect, there's "Neither". That means we can't Summon more than twice per turn either, which causes pretty big disadvantages. Just like another Trap/Spell cards, this card has no protection when it meets S/T removal cards.
Summon Breaker
Code:

During Main Phase 1, when the Turn Player Summons for the 3rd time this turn: It becomes the End Phase of this turn.
This card is a little bit similar with Summon Limit. But it stops Players summoning when Players summon the 3rd time in the same turn, not twice. It's really good but also dangerous to both players. For example, since this card only ends the current when Players summon for the 3rd time, your opponent can really easy to get out Dragossack, but it cannot use its effect to detach 1 material and call out 2 Tokens. This is also dangerous because we can't Summon more than 3 times either => Huge disadvantages for both players, but it's still a good card to stop Elemental Dragon. The last I want to mention is still about S/T removal cards anyway.....
Dimensional Fissure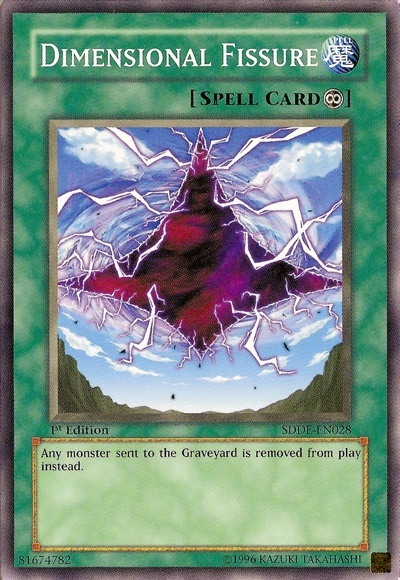 Code:

Effect: Any monster sent to the Graveyard is banished instead.
Anybody who reads this may think about Dimensional Fissure right away, that's good. Like all of you guys know, this card is usually used to counter decks that discard and play with Graveyard a lot such as Dark World, Chaos Dragon, Lightsworn, Lightray, etc,...Like I said before, Elemental Dragon discards monsters so that it can Special Summon or use their effects, so that's why Dimensional Fissure is so good to troll Elemental Dragon. However, our monsters will be removed if they are sent to the Graveyard too. There will be some issues if you use some decks like Dark World, Lightsworn,...like I just mentioned, also it's not good when you use this card in later game, which means your opponent already have heavy field.
Macro Cosmos
Code:

When this card resolves: You can Special Summon 1 "Helios - The Primordial Sun" from your hand or Deck. While this card is face-up on the field, any card sent to the Graveyard is banished instead.
This card is used a lot in game. Basically this is a better version of Dimensional Fissure and the same with Banisher of the Radiance, but it's slower than Dimensional Fissure, since it has to be set first before activating. Well, it's the same, nothing can be said anymore.
Gozen Match
Code:

Effect: Each player can only control 1 Attribute of monster. Send all other face-up monsters they control to the graveyard.
Clearly, you can see it yourself, Elemental Dragon runs 4 different Attributes: Fire, Earth, Water, Wind. So it's really obvious why Gozen Match can stop almost all of Elemental Dragons. But it's only good if it's with some decks that run only 1 Attribute such as Fire Fist, Fire King, Constellar, Evilswar, etc,...That means, if you use this card with decks that don't have only 1 Attribute, you will end up just like Elemental Dragon.